Stephan321
January 30, 2019
Pet sitting is the profession for people who love animals and have a caring heart for them. It sounds like fun as it involves snuggling pets all day, feeding them, taking them out for walks, and communicating with their owners.
Taking care of your own pet or a friend's pet might be easy, but it is not the same when you choose pet care as a profession. Pet sitters face a lot of challenges, and they need proper training and skills to become pet care professional. Let us check the step by step guide to become a professional pet sitter.
Research about pet sitting
The first step to adopt any profession is to research about it in detail. The best way to study about pet sitting is to read their job descriptions and check the roles and responsibilities involved. Other approaches involve reading the blogs, articles, watching the videos on pet sitting.
Pet sitting involves, pet care, feeding, bathing, grooming, pet walks, and vet care. When you research about the profession, you can decide where to learn the necessary skills and training.
Salary and Compensation
Keeping your passion and love for animals aside, you need money to make a living. If you want to adopt the pet sitting as a full time profession, you need to know about the salary prospects and compensation. Knowing the amount of money you can make from pet sitting will help you decide whether you should enter the profession or not. The salary of a pet sitter depends on his/her qualification, skills and experience.
Getting the qualifications
Pet sitting doesn't require any formal qualification, but any certifications will be an added advantage. Any certification in pet sitting can help you build your reputation and credibility. Building a good reputation can help you get jobs and stand out among others.
Some organizations like Pet Sitters International, and The College of Animal Welfare, offers courses and certifications in pet care, dog grooming and training, and dog minding services. A background in animal care is also beneficial for getting jobs in this field. Some employers hire people having a pet for at least five years.
Developing the skills and qualities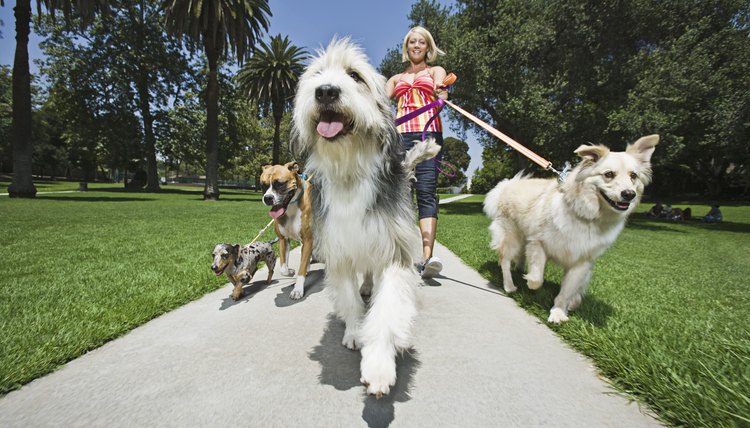 Every employer looks for some essential skills and qualities in a candidate. You need to develop the qualities to market yourself as a pet sitter. The essential qualities include excellent customer service, communication skills, high attention to detail, patience with pets, willing to work outdoors and the ability to handle aggressive pets. Your soft skills and pet-specific skills help the employers to choose you for pet sitting.
Finding the jobs
After getting a certification and some experience, the next step is to find a job. The best place to find jobs is to search it online on the job-specific websites. These sites offer you to explore the category wise jobs. All you need is to visit a reputed website and explore and enter pet sitting in the job category. Moreover, it is essential to tell your friends and family that you are looking for the pet sitting job as their word or mouth can also let you find the job.
Get the liability insurance
The professional pet sitters take liability insurance which covers any mishappenings and accidents while working on the job. Dealing with animals involves the risk of being attacked and getting hurt. Moreover, a pet can break things, or it can attach another pet or person while you take it on a walk. The insurance company covers all such harms and damages. Many pet owners ask for the liability insurance when they hire you for their pet.
Working hours and conditions
Every candidate needs to know about the working hours and conditions of a job. Pet sitting is not like a 9 to 5 office job. Some pet owners offer you the flexibility of working hours, but if you are working for an employer, you need to work in a fixed schedule.
The professional also involves taking the late night calls and last minute requests. Sometimes you may receive the requests to take a dog out for a walk in the night. If you choose to work in the pet owners' house, you need to travel daily. If you are not flexible to work in the odd working hours, you can choose a job with an employer that offers you fix working hours.
Some Challenges in Pet Sitting
Last minute calls
Last minute calls are a real thing in this profession. You need to be always ready to go out and be prepared that it is a part of the pet sitting job. In the beginning, it may be frustrating, but with time one become comfortable with the last minute calls and requests.
Late payments
If you work with an employer, you get the salary on a fixed date, but if you work as a freelancer, people may pay you late. Some clients may forget to pay you and not respond to your calls which can be frustrating. You need to set a system to receive your payments on time.
Pet visits are longer than expected
A pet owner may call you for 15 minutes, but it may take about an hour to do the job due to some reason. However, it's a part of your job, and you need to complete the task for which you have been called.
Additional tasks
Some people hire you for dog minding services, but they ask you to perform the additional activities such as cleaning the pet room, washing its bedding, cooking meals for the pet. All these may or may not be a part of your job, but you need to respond to such clients.
Final Words
These are some steps to become a pet sitter. It is an attractive job for pet lovers, but also involves challenges. Following the above steps in this post, the preparing themselves can help the aspiring candidates to make a profession in pet sitting.